Description:
Easily carry up to 55 keys to your vehicles using the convenient hand grip on this portable keyboard.
Made of masonite with steel reinforced black vinyl trim to protect edges.
Rows are offset so keys do not hang on top of each other.
Gold colored hooks have spring lock safety catches so keys cannot accidentally fall off.
Size: 18 1/2" wide x 29 5/8" tall.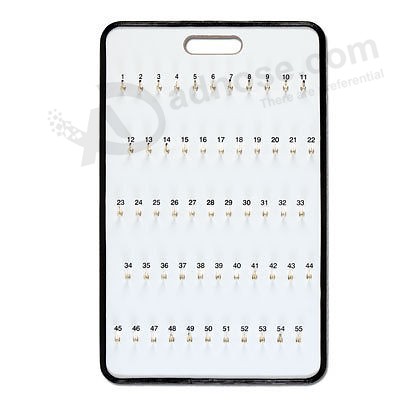 What we can offer:

·100% Good Quality - Quality is the most important issue in trade business, we always keep it as NO.1 position for clients.
·100% lowest prices - We always give the best prices for good long term cooperation relations especially for old clients.
·Fast reply service - We normally reply within 5 minites.
·Flexible working way - We can communicate well and solve problem well when happen any problem.
·Good after-sale service - We have special collegues to follow up the business when deal is done.
THE CUSTOMDESIGNS ARE AVAILABLE! PLEASE SEND US AN INQUIRY!