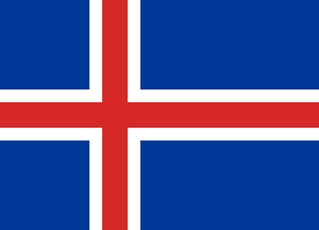 The  flag of Iceland is blue as the sky with a snow-white cross, and a fiery-red cross inside the white cross. The blue areas are right angled rectangles, the rectilinear surfaces are parallel and the outer rectilinear surfaces as wide as them, but twice the length.The arms of the cross extend to the edge of the flag, and their combined width is 2/9, but the red cross 1/9 of the combined width of the flag.
Blue:100, 69, 0, 11.5
Red:0, 94, 100, 0
we maintain in-stock the Desktop flag of Iceland, Hand Flag of Iceland.