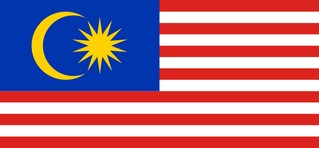 The flag of Malaysia, comprises a field of 14 alternating red and white stripes along the fly and a blue canton bearing a crescent and a 14-point star known as the Bintang Persekutuan (Federal Star). The flag of Malaysia, which was first raised in 1963, originated from the flag of the Federation of Malaya.
If the flag of Malaysia is fixed at home, it is to be raised pointing towards the road.
If the flag of Malaysia is put in a group of flags with state and private company flags, the Malaysian flag must be raised in between two flags and its pole placed higher than the rest.
We offer desktop flag of Malaysia,  They can be used on desktops.